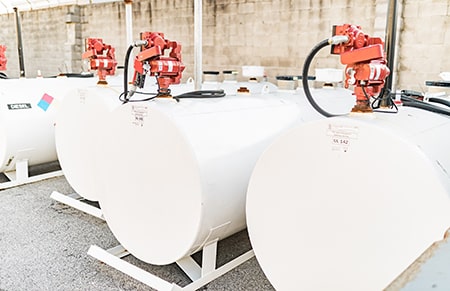 Howard Energy, a fuel storage tank loan provider, can provide above ground fuel storage tanks. We also work with subcontractors who can install in-ground tanks for our customers. Having an above ground tank makes repairs and inspections easier, and Howard Energy can rent this type of tank to you. Two other added benefits to above ground tanks are:
Leaks can be found easily: This may go without saying, but leakage is visible with above-ground tanks, making it safer and less risky. Any fire hazard can be addressed immediately.
Repairs are more efficient: Above-ground fuel storage tanks require reparations from the above-mentioned weather elements, and repairs are fairly simple to accomplish as the tank is readily accessible.
Since below-ground fuel tanks experience corrosion, above-ground tanks offer less rust due to the material placed underneath, usually cement. Call Howard Energy to talk about above-ground storage solutions and pricing.
Below-ground Fuel Tank Storage
Below-ground fuel storage tanks have their own set of benefits and can prevent common calamities, for example:
Tanks stay sealed: Safely hidden away from the weather and severe temperature changes, below-ground tanks are less likely to puncture or experience leaks.
Fire hazard risk is low: Since underground tanks are not being exposed to weather changes, pressure from wind or other things, leaks and flammable material are less likely to exist underground.
Below ground fuel storage tanks are a good option for reducing theft and solving a space solution when organizations have limited capacity to store fuel but need a tank on-site.
Howard Energy can walk you through additional benefits and disadvantages of each type of storage tank to help you make the right decision for your organization. Our experts can also provide you with competitive pricing so you get the best, high quality technology and storage solutions for your money. Remember, fuel delivery on weekends and holidays costs nothing extra and we can deliver fuel to your location 24/7.
Contact Howard Energy Today!
Learn about our wholesale fuel delivery options to package with your fuel storage tank. Howard Energy serves Maryland, Northern Virginia, Washington D.C., and surrounding areas to conveniently deliver gasoline and diesel fuel. Howard Energy can also install fuel tank systems and monitors; call to learn about our pricing structure and find out what type of system would be best suited for your needs.